Infant and Toddler Program (1month-3 years)
Our Newly licensed Infant and Toddler Program is plan according to the development of the children. Early childhood Educators with Specialized Infant and Toddler and also Special Needs Educator work together with parents to make sure that there is a consistency of care from home to daycare.
Daily activities is designed to help children develop there Social, Emotional, Physical, Cognitive and Language skills. We Have music and movement which help to develop gross motor skills, Story time for children's language development, Circle time that helps children to work in a group settings, Sensorial Activities that help children to discover things around them as well as math concept that teaches children to develop there cognitive skills.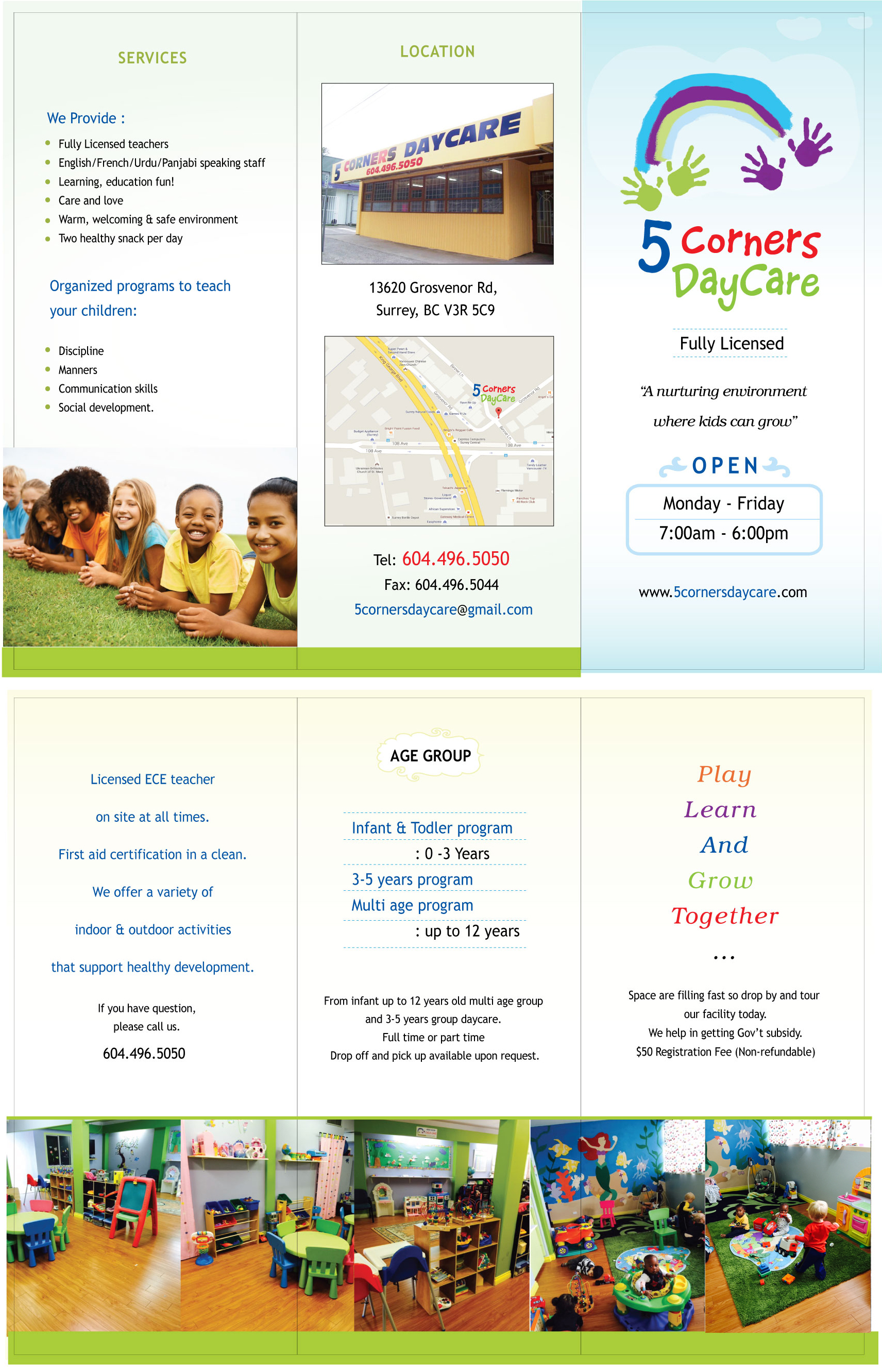 Daily Program for Infant and Toddler
5 Corners daycare Opens
 Creative Play
 Morning Snack
 Diaper Change
 Music and Movement
 Outdoor Play (Weather Permitting)
 Lunch
 Diaper Change
 Afternoon Nap
 Afternoon Snack
 Diaper Change
 Language Development
 Outdoor Play
Ratio in this program is 1 teacher for 4 children and we always have an extra teacher on site if we need assistance.
Multi-Age Care
The Multi age Program has well planned activities that have been thought thoroughly which includes, Free Play and Outdoor Activities. Our Licensed Early Childhood Educator works hand in hand with the Manager of Facility to help achieve goals necessary for your Children's development.
Activities are developed for both ages to meet children's needs. Daily Scheduled is just a framework to give children a consistent routine but it can be change anytime to meet the needs of certain age group.
Daily Program for Multi-Age Care
 Creative Play
 Morning Snack
 Circle Time
 Music and Movement
 Outdoor Play (Weather Permitting)
 Lunch
 Bathroom Routine
 Afternoon Nap
 Small Group Activities
 Bathroom Routine
 Visual Arts
Outdoor Play
 Full-time Daycare (Pre-School 3-5 Years Old)
 The full daycare program started more than a year ago; our well planned curriculum is in collaboration of our facility Manager and our Early Childhood Educators. We take in considerations what we see and observe from our children through daily observations.
Our age appropriate activities are developed to achieve certain goals to your children's development. Daily schedule serves as framework to provide a sense of consistency and familiarity to the routine of your children. It can also change to provide flexibility to the younger age.
Daily Program for Full Daycare
 7:00 am Centre Opens
 Free Choice Play
Morning Snack
Circle Time
Artistic Exploration, Puzzle, Games
Outdoor Play (Weather Permitting)
Lunch
Book Time, Stories
Afternoon Nap
Small Group Activities
Visual Arts
Outdoor Play
Ratio in this age group is 1 Teacher for 8 Children.